Become a Fixer
Sign up and start earning with JustFix
REGISTER AS A FIXER TODAY
Our technology will take the pain out of booking jobs, getting paid and tracking your most valuable customers.
We'll even give you financial reporting to help with you tax return.
Sign Up
Get seen, get jobs
JustFix works like a marketplace which promotes your business, into the hands of the consumer. Whether you are a team of one or many, we can bring you valued customers, for emergency repairs and ongoing jobs in an instant.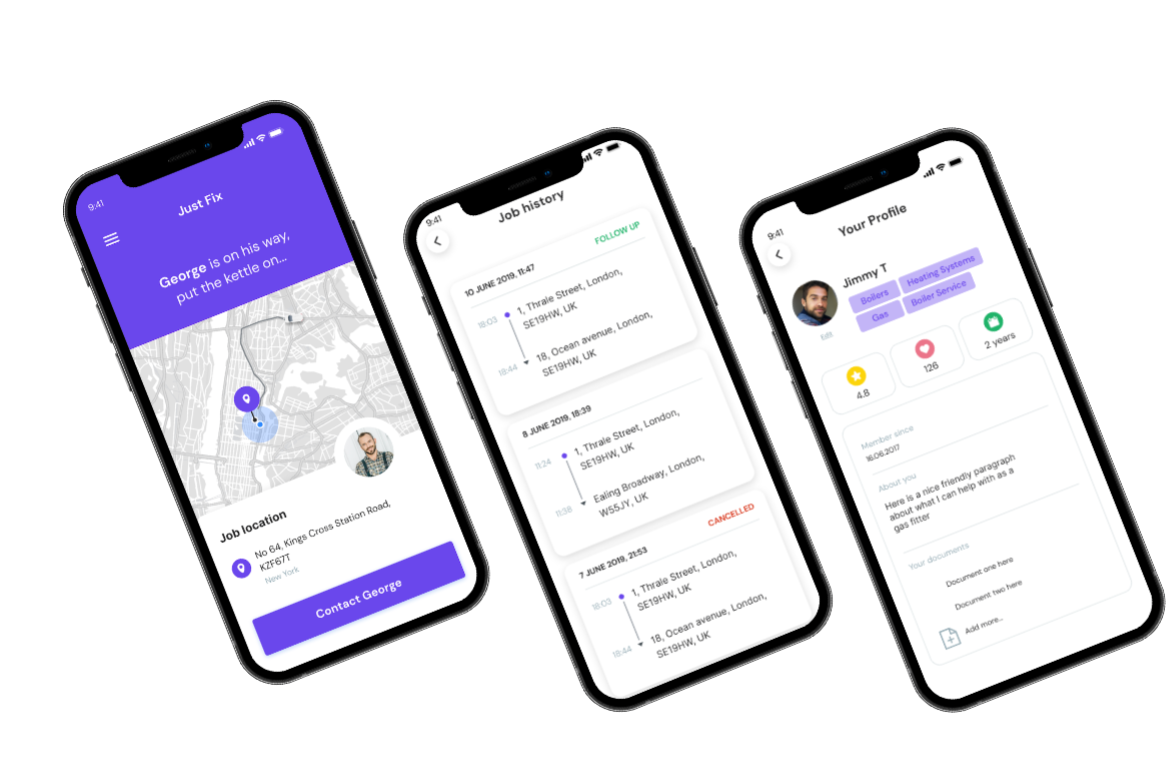 Set the working day your way.
Join today for an extra stream of jobs with no obligation to accept, choose the way you work, when you work.
No hidden fees, no commitment needed.

No cost to join and no monthly fees - commission only charged on money earned through the app.
Smarter working for a smarter world

Easy to use job scheduling platform with GPS and customer messenger built in.
Sign up to be a Fixer today
How does it work?
Once you're signed up to the platform, customers can book you via a marketplace. There's no charge to be on the platform and we don't charge you for leads. We simply charge a commission on money you earn via the platform. There is no obligation to accept a job and you can choose when you want to earn through Just Fix. So, it can be used to top up your existing workload and is very flexible.
How much does it cost?
It is free to sign up and there are no monthly fees or hidden charges. We don't charge you for leads. So, there are zero speculative costs. We only earn money when you earn money. We charge you a percentage on cash earned through our platform. The commission charges start at around 15% and get lower as you earn more through Just Fix.
How do I sign up?
Just fill out the form above and you will be taken through the slick, automated process.
If you have any questions at all, just get in touch and we can guide you.
What's in it for me? Why should I sign up to Just Fix?
Just Fix provides you with an additional stream of work, on demand - with no speculative costs. You only pay when you are earning; and the more you earn, the less you pay.
Just Fix provides you with access to a growing marketplace and a suite of tools that help you run your business effectively, providing you with the ability to take card payments and streamline the communication with customers through the use of technology - freeing you up to do what you do best.
What areas do you cover?
We currently operate across the whole of Essex and East London. Soon, we will be expanding to cover the whole of the UK. We are constantly looking to pre-register people in the areas we don't yet cover. The more Fixers and customers we have pre-registered in an area, the sooner we will turn on coverage for that region. Click here to pre-register.